Please, please take part in the SHARE YOUR MEALS CHALLENGE.  Please for the sake of my sanity.
If you're anything like me, you'll stick to the same meals week in, week out.  So this month I want you getting creative in the kitchen and share it with me.
My challenge for you is to try some new meals and share them or just share your favourite meals (keeping it nice and healthy).    It can be as simple as putting together a simple salad with a different ingredient to a gastronomic masterpiece.
Think healthy and natural as much as possible.
How to get involved with the share your Meals Challenge
Take a photo of your meal or even make a video (wherever possible) or just describe it.
Post it in the comments below including what ingredients you've used, how to make the meal and of course what you thought of the meal.
If you'd like a post of your own, go ahead and email your recipe and your image.  Make it personal and make sure the image is of the meal you've actually made and not someone else's image. Tell us what you liked about the meal. If you're following a recipe from a book, online recipe, please add a link to that recipe thanks.
If you'd like your recipe to be featured on the blog ~ Send your Guest RECIPE Blog post to me wendy@wendytomlinsoncoaching.com
 [tweetthis hidden_hashtags="#Health #Recipes" url="https://idealweightchallenge.com/weight-loss-challenge/" display_mode="box"]Share your meals challenge [/tweetthis]
Let's have fun in the kitchen this month
Whether you're a fantastic cook or like me, okay in the kitchen, let's have some fun in the kitchen this month.  You don't even need to cook, salads can be made to be really interesting.  I believe so much of losing weight is about learning to love and appreciate food.  Let's create a happy and positive relationship with food.
Please share this challenge with your friends and get more and more people achieving their ideal weight in a positive and natural way.
Snacks and desserts too
My meals tend to be fine but then I find myself snacking on unhealthy high-calorie foods.  So snack ideas would be more than welcome too.
We've just enjoyed a bowl of mixed melon and strawberries as an after lunch treat.  I sometimes have this with a sprinkle of granola, some greek yoghurt and a drizzle of honey for breakfast or a mid-afternoon snack.
Here's a quick soup I whipped up yesterday to kick off the share your meals challenge
I love making homemade soups.  They fill me up and I can grab extra whenever I'm feeling hungry.
I used up a few bits I had i the bottom of the fridge.
2 carrots
2 potatoes
1 orange pepper
1/2 green pepper
A couple of florets of broccoli
1 red onion
1 oxo cube (veg) and about 1 pint of water
1 tsp turmeric
Sprinkle of black pepper and a splash of Worcester sauce
I sprayed the bottom of my pan with a few squirts of olive oil and threw all the veg, turmeric and pepper in for about 2 minutes, stirring gently.  It smells wonderful.
Then I poured on the stock (oxo and water) and Worcester sauce.
Put the lid on, bring to the boil and then simmer for about 15 minutes or until the veg is soft.
I blend with a stick blender and that's it, ready to serve.
You can pretty much throw any leftover veggies into a soup this way.
Give it a go and share your own soup ideas (and any other meals) below.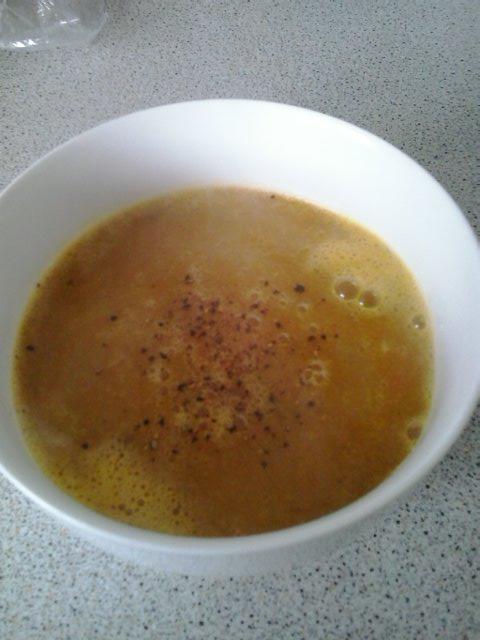 Thanks
Wendy xx
P.S Please add as many meals as you can.  Share tips and ideas and I'd love some pics if you can.